DO YOU SUFFER FROM

PLANTAR FACILITIES, SHIN SPLINTS, OR VARICOSE VEINS?
Made to treat varicose veins, muscle injuries, spider veins, shin splint, and calf sore. It also accelerates blood flow, supports muscle contraction, prevents muscle pains and decreases leg stress and fatigue.
These compression socks are must-have for physically active people. Perfect to use for a long walk, daily exercise, workouts, practice, and sports. Increases endurance index by up to 75% for faster muscle recovery. 
FEATURES:
PREVENTS MUSCLE PAINS
Effectively prevents muscle pains and fatigue by compressing the surface veins, arteries, and muscles.
TREATS VARICOSE AND SPIDER VEINS
Can treat and prevent varicose and spider veins and remove associated pain and swelling through improving the blood flow.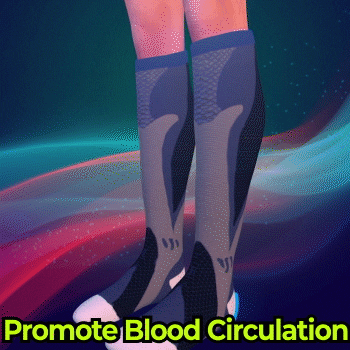 TREATS SHIN SPLINT, CALF SORE, AND OTHER INJURIES
Through compressing the injury site, it helps in treating shin splints, calf sore, and other painful injuries.
INCREASES ENDURANCE INDEX
It is proven to increase endurance index by up to 75% making muscle recovery faster than usual.
IMPROVES HEALTH 
Improved blood circulation can also improve the immune system and the overall body's health.
SUITABLE FOR WORKOUT AND EXERCISES
It can be used daily for workouts and exercises to prevent future injuries and muscle pains.
SIZE GUIDE: