This Bicycle Anti-dust Wheels Frame Cover will prevent the dirt from entering your neat space, keep your floors, carpets, walls and anywhere clean and tidy!
When you want to store your bicycle at home, in the garage, or when you go to work, you want to put your bicycle in the office, this bicycle wheel cover will play an important role.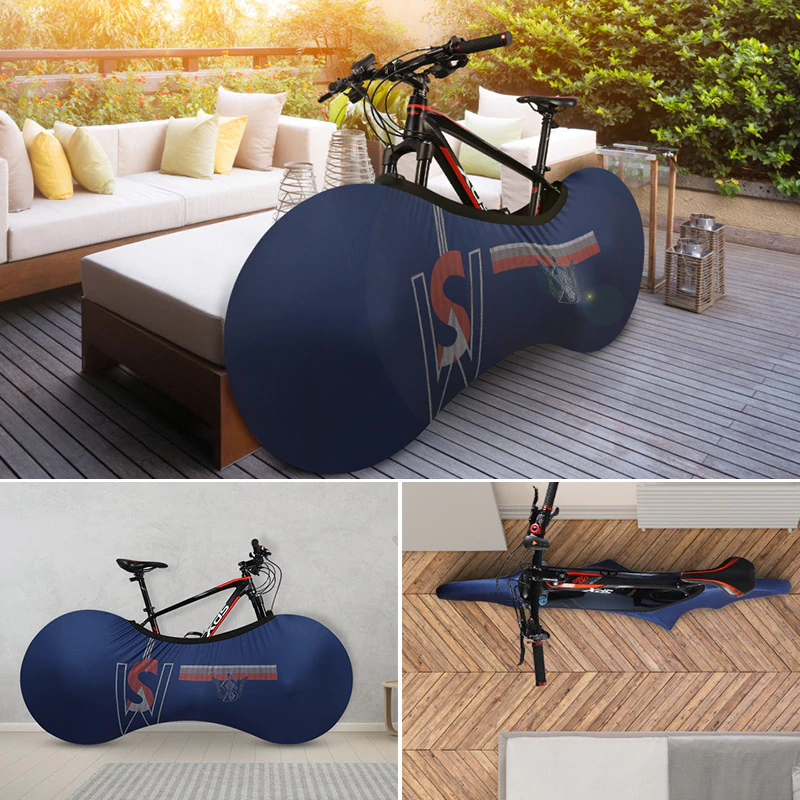 Bicycle covers made of with other fabric are too thin and will be teared easily. Our bicycle cover achieve maximum stretch due to the super elastic and lightweight polyester spandex material, perfectly keep its shape. No matter what size of tires are on your bike, this bicycle cover is perfect for mountain bike, road bike, folding bike, racing bike, BMX, etc.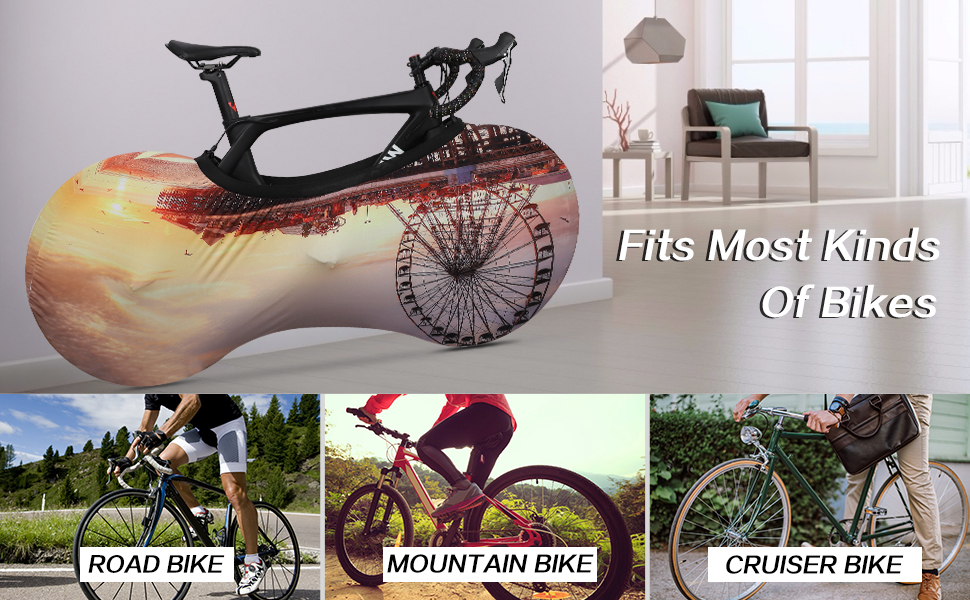 FEATURES:
KEEP SPACE CLEAN AND AWAY FROM DIRT - The bike wheel cover wraps up the entire bicycle frame and tires, including chains and pedals. Hold the dirt inside, at the bottom of the bike cover, while stay your space tidy. Prevent sand, mud, dust, tire tracks or other dirt from entering your room, keep the floors, carpets, walls and any indoor areas neat and clean, no moisture or dirt


HIGH ELASTIC, FITS FOR VARIOUS OF BIKES - Bicycle dust cover is made of high quality polyester and spandex fabric, which is super elastic and the stretched length is about 149 cm. No matter what size of tires you have on your bike, this bike cover will fits well. Apply for most bicycles such as mountain bike, road bike, cruiser bike, racing bike or any other kinds of bikes


PERFECT FOR INDOOR STORAGE AND MANAGE - These bicycle covers are used for long-term unused bicycle storage and management, also help to protect your bikes from scratch, sunlight, rust and oxidation. Bicycle covers are usually applied to indoor floor and wall protection, keep your home, apartment, office, car or other space away from getting dirty


QUICK ABSORPTION OF DIRT AND MOISTURE - Bike cover will absorb dirt or water rapidly, which means the floor, walls and anywhere will not get wet with dirt. Come back home after a rainy ride, you will feel this bike cover works well. The bike cover is hand-washable as well as machine-washable. You will find this bike cover still retains its shape perfectly


CONVENIENT TO USE, USER FRIENDLY DESIGN - User-friendly design makes this bike cover easy to use, store and disassemble, without zipper or clip stuck on bicycle parts, so you can put it on the bike alone. The simply design makes this bicycle cover also easy to access for teenagers and the old people. The bike cover is a great present for yourself or your family.
SPECIFICATIONS:
Size M: 

Fit 24" 26" 700C Road bike/

 L: 

Fit 27.5" 29" MTB bike

Material: 

Polyester+Spandex

Feature: 

Dust-Proof,Scratch-proof